Installation | IoT | Physical Computing
Group Porject with Nanyi Jiang
Los Angeles has a strong photo generating culture that both locals and visitors love to capture their glamorous moments around the city. Among the favorite spots are museums and commercial neighborhoods where contain works whose original values and intentions are not for social media posts. Hence, as respect for the original works, we want to call people's attention back to the original values of the works instead of their social-media value.

We want to reveal the background story and true values of places through actions of our installation in ridiculous and funny enough ways to ask for people's attention and introspection of their intention of taking photos. Before the revelation, our installation will be masked as helping people finding the best place to take photos and give guidance (such as poses and hashtags) to generate the best photos to post on Instagram.
User Journey
System Map
Sketch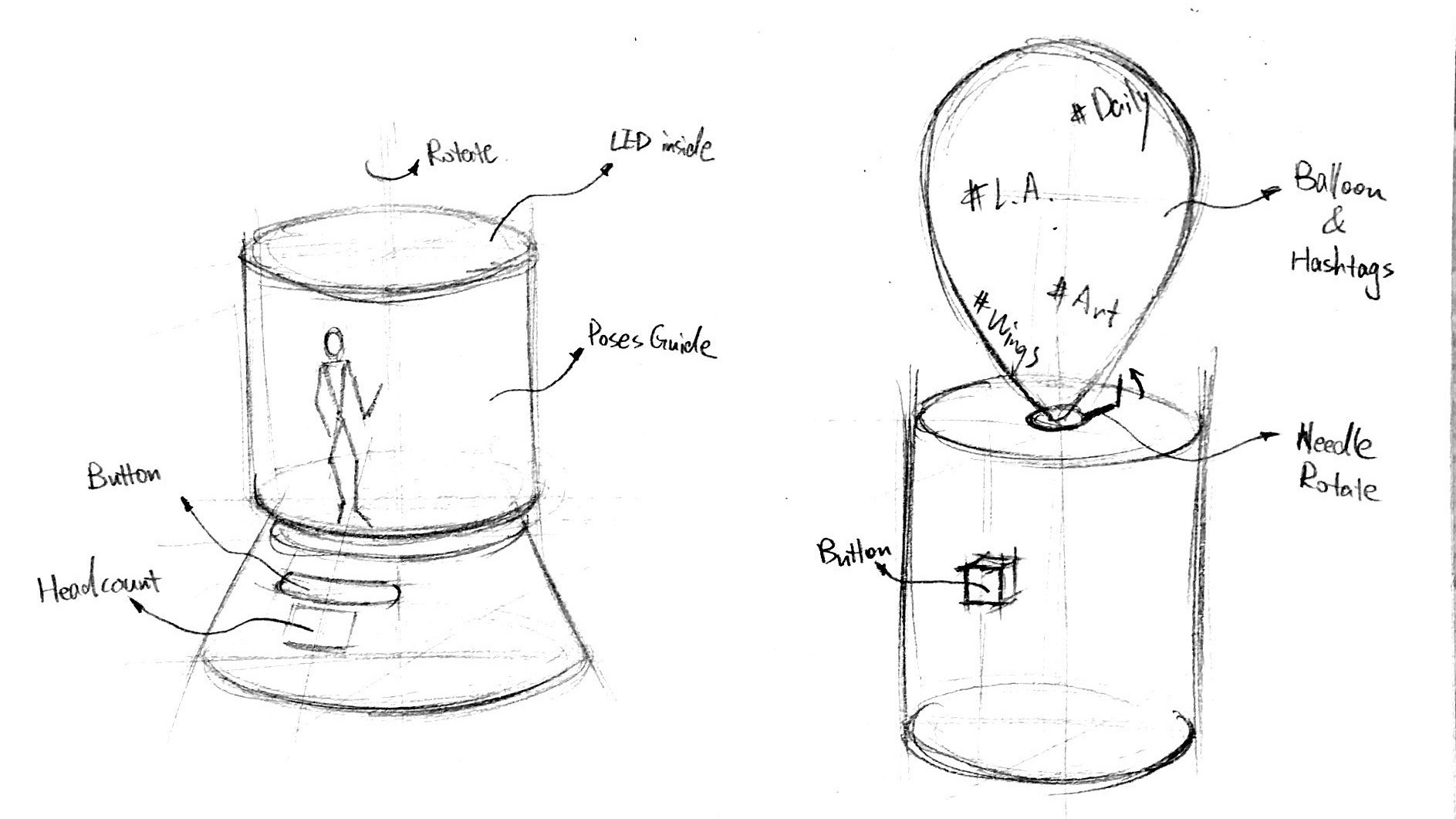 Material
For the Police:
ESP32, LED light, Button, Servo, 3D-printed enclosure, Laser-cut gears

For the Shouter:
ESP32, Paper board, Button, Servo, Needle, Balloon

Police Prototype
Shouter Prototype
Installation Context Design We imagine our installation to put into places around LA where the true value of the space is wrongly replaced by photographic value. To better illustrate our idea and put Police and Shouter into real context, our team decided to use an orange glass door in Artcenter's South Campus as an assumed popular, photogenic spot in Pasadena.
Popular HashtagsOur team researched on popular instagram hashtags on formulated the following for our Orange Door: object-description related:
#orangedoor #orange #door #artcenterdoor
Location related:
#artcenter #accd #accdlife #california #cali #californialife #losangeles #calidreaming #lalaland #laliving #artcenterlife #pasadena #pasadenalife
Time related:
#weekend #orangechristmas #sundayafternoon
Other topics:
#design #art #life #ootd #fashionblogger #fashion #blogger #streetfashion #streetphotography #streetfashion #portrait #selfie #friends
Background Story
The Orange Door is a popular, photogenic wall in ArtCenter's South Campus in Pasadena, California. It is a instagram destination for anyone who tours Pasadena. As more and more students and visitors come to visit this spot, the department needs to clean the door more often as there are more and more scratches and dirt on the glass door. Also, the school has to spend more every year to maintain its perfect external Orange finish. The school needs to hire additional security to monitor the traffic and photo takers' behaviors to ensure the smooth running of school work. However, the Orange door was designed by the school to provide welcoming entrance experience for its students and faculties. The orange was carefully chosen to reflect ArtCenter's orange and ensure the best experience for people enter the space.
Police and its Internal Mechanical Structure
Shouter and its Internal Mechanical Structure
Website